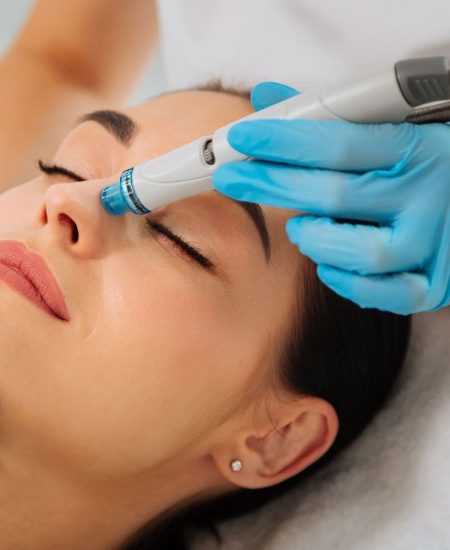 The HydraFacial is a non-invasive cosmetic procedure that improves the look of the skin by exfoliating the skin, extracting any impurities from the skin, hydrating the skin, and protecting the skin from free radical damage. It is a process that consists of a number of steps and is carried out with the assistance of a specialist tool. HydraFacial doctors in Kukatpally are a set of popular doctors who revitalize skin without having more intrusive treatments since they are appropriate for all kinds of skin and may be customized to address particular needs.
How Does a HydraFacial Treatment Work?
Best Clinic for Hydra facial uses the procedure that starts with a mild exfoliation of the skin, which removes any dirt or debris that may be present. After that, a method of mild exfoliation is performed in order to remove any dead skin cells and expose a complexion that is more refined. The next step is to apply a light chemical peel to the skin in order to further exfoliate it and continue to stimulate the regeneration or formation of new skin cells.
Following the phase of exfoliation, the HydraFacial gadget draws out impurities from the pores of the skin, removes blackheads, and cleans out any other debris that may be present. At the same time, a moisturizing serum that includes helpful elements including antioxidants, peptides, and hyaluronic acid is infused into the skin. Hyaluronic acid is also included in the serum. The serum is formulated to target certain skin issues, such as dryness, hyperpigmentation, or symptoms of age, and it is applied topically.
The last stage in the process consists of applying a moisturizer and sunscreen to the skin so that it is both protected and nourished. The treatment as a whole is rapid, requiring between thirty and forty-five minutes on average, and produces almost instantaneous enhancements in the skin's texture, moisture, and overall luminosity.
What Should I Expect from HydraFacial?
After only one treatment, you should notice a discernible improvement in the skin's texture as well as a glowing tone. You may anticipate that these beautiful effects and incredible hydration will last anywhere from five to seven days, or even longer in certain cases. On the other hand, one should not expect a speedy recovery from this therapy.
If you make an investment in a treatment once a month, your skin health will progressively improve, and you will see slowly but steadily the reduction of fine lines and wrinkles near affected areas, as well as parts of hyperpigmentation, clusters of blackheads or whiteheads, acne, and less oily skin. Investing in HydraFacial doctors in Kukatpally treatment once a month will also help decrease the look of oily skin. Your skin will be able to retain its moisture and vitality if you continue your treatments
What Makes a HydraFacial more Special than a Regular Facial?
This treatment is easier on the outer layer of skin than the majority of conventional facials since it does not include any kind of physical extraction. However, the benefits are both immediate and long-lasting. You should see an improvement in hydration, a reduction in the appearance of spots and dark circles, and even a smoothing out of tiny wrinkles.
Benefits of a HydraFacial
It is believed that the HydraFacial enhances the complete surface, complexion/ tone, and the look t is not necessary for you to make significant adjustments to the way you live after of the skin. This is because the thorough exfoliation that cleans your pores, eliminating dirt and allowing for greater penetration of face serums specific to your skin type, is responsible. Blackheads are a result of dead skin cells as well. This noninflammatory kind of acne could profit from the same exfoliation and extraction procedures utilized in the HydraFacial. HydraFacial procedures have shown significant reductions in the indicators of skin aging compared to individuals who just utilized serums on their skin. HydraFacial doctors in Kukatpally can get results that include a reduction in pore size, a lessening of hyperpigmentation, and a smoothing out of fine wrinkles.
A HydraFacial treatment in KPHB is a very mild technique to fix your aesthetic issues and create glowing, attractive skin at the same time. There is no need for major lifestyle changes since the treatment does not include the use of harsh or unpleasant substances. On the other hand, we will recommend that you refrain from using certain skincare products and engaging in particular activities.
• Maintain a Dry Face for Yourself: After your treatment, you should wait about six hours before washing your face again.
• Make Some Changes to Your Daily Skincare Routine: For the following couple of days, you should avoid using any beauty products that include glycolic acid or any other compounds that have the potential to exfoliate your skin.
• Keep Yourself Out of the Sun: You should apply sunscreen with a high SPF rating for at least a week in order to protect the tissues on your face.
Why Choose Dr. Praneeth Skin Hair Laser Clinic
The Dr. Praneeth Skin Hair Laser Clinic stands out as a leading option for a number of compelling reasons. To begin, it is directed by a highly qualified and experienced dermatologist named Dr. Praneeth, who specializes in the use of laser therapy for skin, hair, and other conditions. The medical facility provides a comprehensive selection of cutting-edge and highly efficient treatments for a variety of skin and hair conditions. They focus the patient's happiness and safety, ensuring that each individual receives individualized treatment and making use of cutting-edge technology. The clinic strives to create and preserve a warm and inviting atmosphere, which helps patients to relax and enjoy their time there. The Dr. Praneeth Skin Hair Laser Clinic has established a good track record of excellent results, making it a reliable place for receiving high-quality dermatological therapy.
The HydraFacial is a treatment that is suitable for people of any skin type. According to Dr. Praneeth of Dr. Praneeth Skin Hair Laser Clinic, Best Clinic for HydraFacial, you should not have a HydraFacial when you have an existing rash, sunburn, moderate to severe acne, or rosacea. In these cases, the treatment might make your condition worse.
Women who are carrying a child should also avoid doing it. "Some of the elements used in the HydraFacial, like salicylic acid, haven't been tested and proven safe during pregnancy," he says. "The HydraFacial is not recommended for women who are in the family way."
Because it can be altered to address the specific aesthetic concerns of each individual client, the HydraFacial at the Best Clinic for HydraFacial is an excellent choice of treatment for people of any age. Because it is a minimally invasive procedure, it does not entail the use of harsh chemicals or incisions in the skin. Furthermore, the procedure just takes twenty to thirty minutes, which means that you will be inside and out from the facility very quickly.
Just one HydraFacial treatment in KPHB is all that is required to give your complexion a fresh start. However, just like any other beneficial treatment, the effects of a HydraFacial will wear off with time; normally, this occurs between two and four weeks following the treatment. To your good fortune, you are welcome to continue receiving more HydraFacial treatments in KPHB on a monthly basis. They won't leave your skin peeling or sore afterward, you may plan frequent maintenance visits without having to deal with the irritating after effects of the procedure.
For more details on this HydraFacial Treatment in the Best Clinic for HydraFacial, feel free to contact our clinic on 9704946534/040-48553939 or log on to www.drpraneethclinic.com