Fractional co2 laser treatment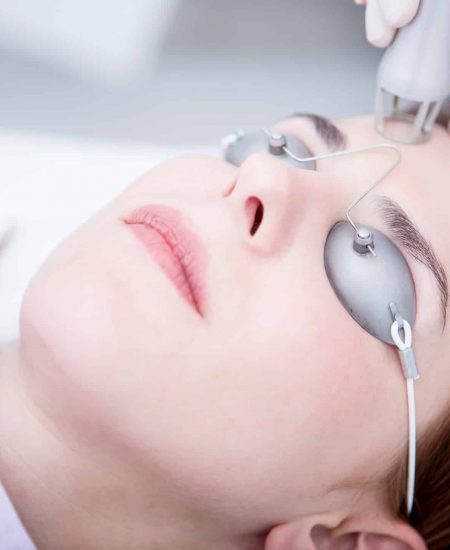 What is a Fractional CO2 laser?
Fractional Co2 laser treatment is today's most commonly used laser treatment. Laser skin resurfacing and CO2 laser resurfacing are also names for this same treatment. Dermatologists and physicians use this type of laser to treat acne, scars, deep wrinkles, and many more skin irregularities. This laser skin resurfacing procedure is believed to be the gold standard for acne scar treatment. Carbon dioxide is used in this non-invasive procedure to remove the outermost layer of the skin. This helps skin to look younger and healthier, hence the name skin resurfacing treatment.
Why is a fractional co2 laser used?
Fractional co2 laser or laser skin resurfacing is used to replace dull, acne-prone skin and skin with irregularities with a new look that is healthier and younger. Using CO2 laser resurfacing, a non-invasive laser with carbon dioxide removes the outermost layer of skin. It is used for a wide range of skin problems like sun damage, crow's feet, acne, uneven skin tone, wrinkles, hyperpigmentation, and more.
Types of Complications Cured By Fractional CO2 Laser?
The types of skin problems that can be cured by fractional CO2 laser or co2 laser resurfacing are as follows:
and other benign skin growths (birthmarks, warts, and rhinophyma).
How does a fractional CO2 laser work?
This fractional CO2 laser or CO2 laser resurfacing treatment works both superficially and also under deep scars. The laser gun's beams emitted by the light of the gun are easily absorbed by any water content present on the outer layer of skin. The beams eliminate the old and damaged skin, and the collagen helps produce new skin that looks younger and healthier.
How is the procedure for fractional CO2 laser done?
In order to proceed with a fractional CO2 laser or laser skin resurfacing, we need to apply a local anaesthetic cream to the area that needs treatment 45 minutes before we start. We use short-pulsed light energy, also called ultra pulse, that is blasted through a scanning pattern to remove the outermost thin layer of the damaged skin. Once we get rid of the dead skin, the procedure is activated by multiple microthermal zones that go deep into the surface of the skin that's been treated. Thus, we enable the body's natural healing process and this boosts collagen production. Thereby, we remove the damaged cells and we are left with healthy, clear skin.
How many sessions of Fractional CO2 Laser application are made?
The process of CO2 laser resurfacing, or laser skin resurfacing, depends on the number of wrinkles that are visible to the eye. For example, applications for light wrinkles would be limited to 1-2 sessions, while deep wrinkled skin would require 3-4 applications. We need to repeat the process every 1.5–2 months.
What is the recovery time after getting fractional CO2 laser treatment?
For any skin resurfacing treatment or fractional CO2 laser treatment, the required results may be visible in about 1 to 2 weeks. During this treatment time, the skin is usually very sensitive and needs a lot of care to heal. The newly resurfaced skin will look reddish pink, and that only shows that the blood is nourishing the growth of new cells and that a new layer of skin is forming gradually. The redness will decrease with time and may depend on the patient's skin type and the depth of the laser used for the treatment.
How long does it take to see the results of fractional CO2 laser treatment?
Fractional CO2 laser or laser skin resurfacing will need 2 to 6 sittings of application depending on the severity of scars or the number of wrinkles present. Usually, these laser skin resurfacing treatments are spaced 3–4 weeks apart for the most permanent results. The full results will be seen 3-6 months after treatment.
Are there any side effects or possible risks to A co2 laser treatment?
When a patient undergoes this fractional CO2 laser treatment, the skin that has been treated tends to swell, itch, or you could even have a burning sensation. Sometimes, the redness that is caused by the removal of dead skin may be intense and may last for months. When this treatment is used for acne-prone skin, the skin worsens because the patient is advised to apply thick cream and bandages on the face, which results in the development of tiny white bumps called milia.
What are the differences between fractional CO2 Laser and the other laser types?
The most important difference between the fractional CO2 laser and the other laser types is that the fractionated CO2 laser only ablates a part or a fraction of the skin surface that is under treatment, whereas the other laser types ablate 100% of the skin surface. Lasers differ by wavelength. When we talk about fractional CO2 laser or CO2 laser resurfacing, we can be sure that the laser penetrates much deeper into the skin and the best results can be obtained even with one single treatment. Whereas, other lasers do not go deep enough, and therefore, the patients have to go for multiple sessions and will not see immediate and lasting results.
What kind of results should you expect?
When a client undergoes fractional CO2 laser treatment, we know that a good number of laser beams penetrate the skin during the procedure. When this happens, the old, damaged skin is eliminated by the production of collagen within the skin, and in 3-6 months, a deep layer of new skin is produced that looks healthier and younger. This new skin looks brighter and has an even tone, and over a month or two, the wrinkles diminish as the collagen fills them in.