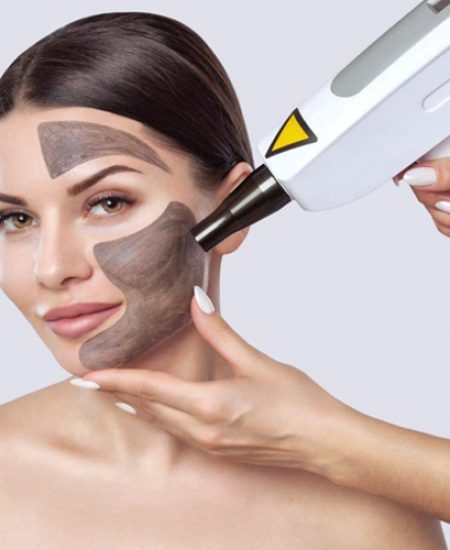 What is a Hollywood Peel? 
Hollywood peels are also so-called Hollywood spectra peel or carbon spectra treatment. Hollywood peeling procedure involves the use of carbon solution to improve the appearance of fine wrinkles, skin rejuvenation, pigmentation, and pores all through the Hollywood laser peel on the skin with carbon. This Procedure kills germs and removes the dead skin layers of skin, refreshed with glowing skin. 
How are Hollywood Peels Performed?
Hollywood Peels treatment uses a laser in order to remove the dead skin. A carbon paste/solution is applied to the face and the patient is left for some time before performing the treatment. Then the laser is shot where the carbon solution is applied on. As carbon is a absorbs light, this causes the dead skin cells to vanish when the laser (light energy) is applied to the face and it reactivates the collagen deep under the skin to produce new skin cells. 
How frequently it can be performed?
It is suggested to repeat Hollywood laser peel treatment about 4 sessions generally, these sessions last not more than half an hour or more. The time duration between two sessions is about 4-6 weeks.
Which Skin Types Can Be Performed
Hollywood laser peel can be applied to anyone who is willing to improve their skin tone, wrinkles, oily skin, pigmentation, Acne, skin pores. But, it is advised to dry skin people to be careful as the Hollywood spectra treatment can cause the skin to go dry and one should moisturize their skin after the procedure to keep the skin out from dryness caused by the laser.
Recovering after Hollywood Peels treatment?
As the treatment is very short and risk-free, this is preferred by almost everyone who is willing to get instant glowing skin. So, you can go to your daily routine immediately after the treatment is done. Patients report no pain while performing the procedure and in some minor cases, a little bit of irritation in the skin which will be gone in no time.
At Dr. Praneeth Skin Hair Laser Clinic, we're associated with professional staff and doctors who are experienced to perform this procedure at affordable prices in Kukatpally Housing Board(KPHB) Colony . For further inquiries,
Contact us
by visiting our website
https://www.drpraneethclinic.com
and the same for booking your appointment.