Anti-Aging Treatment
in Hyderabad
Anti-Aging Treatments for Wrinkles, Age Spots & Uneven Skin
Spotless and smooth skin is adored by many people. But they cannot retain it for a long time as they age up and they start getting wrinkled. It is a worrisome situation for many as they want to look younger. Dr. Praneeth Clinic is a blessing for those who want to look younger.
Dr. Praneeth Skin. Hair. Laser Clinic, which is one of the best skin clinics for Anti Aging Treatment in Hyderabad brings you the best Treatment for wrinkles aging skin and skin tightening treatment under the observation of Dr. Praneeth, a professional skin specialist to treat skin anomalies, wrinkles, and any other abnormalities in the skin to make you look younger than you feel.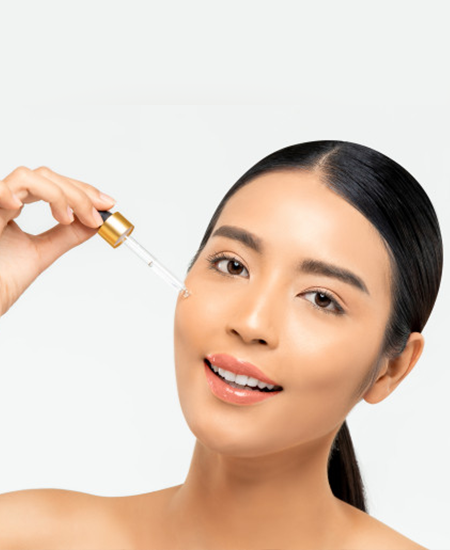 Q-switched Nd: YAG Laser for skin tightening treatment
This FDA-approved technology For Anti Aging Treatment in Hyderabad is widely used around the world for its unmatched efficiency in treating a variety of skin issues such as Treatment for wrinkles aging skin, skin tightening treatment, unwanted tattoos, pigmented lesions (brown spots, age spots, etc.), vascular lesions (spider veins), unwanted hair removal, and non-ablative skin rejuvenation. This advanced technique is the Best Anti Aging Treatment in Hyderabad.
The major advantage of the Q-switched ND: YAG Laser is its ability to condense a very large amount of energy in a very fast pulse, which penetrates the skin without harming it. The pulse is powerful enough to destroy the target – whether it is tattoo pigment, hemoglobin, or melanin. The skin, almost instantly, gains a luster and glow as the blemishes are eliminated and the color and texture improve dramatically.
Microdermabrasion for uneven skin
The Microdermabrasion therapy exfoliates your skin using a rotating instrument to remove the outer layers of skin for a rejuvenated and naturally brighter skin. Performed alone or in combination with other cosmetic treatment procedures, it can be performed regularly to treat conditions such as fine lines, sun damage, acne scars, or to improve the appearance of skin such as uneven texture or skin tone.
The HydraFacial is a non-invasive cosmetic procedure that improves the look of the skin by exfoliating the skin, extracting any impurities from the skin, hydrating the skin, and protecting the skin from free radical damage. It is a process that consists of a number of steps and is carried out with the assistance of a specialist tool. HydraFacial doctors in Kukatpally are a set of popular doctors who revitalize skin without having more intrusive treatments since they are appropriate for all kinds of skin and may be customized to address particular needs.
Chemical Peel for Open pores, wrinkles
For treatment of open pores, wrinkles, skin discoloration, and scars the most widely used Chemical peeling works wonders with an easy-to-use and efficient procedure. Chemical peels help stimulate collagen production that enhances the firmness and tone of the skin.
A gentle exfoliating action eliminates the dead skin, getting rid of the oil & dirt that clog up the pores, and thus clears the skin for a younger appearance and a rejuvenated feel.